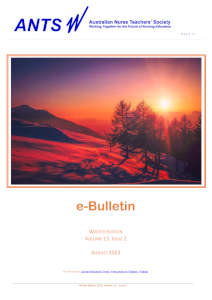 Hi ANTS members
Sorry about the delay in posting the latest bulletin (as it is now Spring!). In this edition our main focus is on the 19th NNEC held in June.
We have a Book review, hopefully one of many to come. Elsevier has also provided us a broader list of texts that we can review, including some that aren't published yet.
Have a great Spring & happy reading.
Kathryn
Kathryn Geisler
Nurse Educator
Nursing & Midwifery Practice Development | Sunshine Coast Health
Facility: Gympie (Monday, Wednesday to Friday)
Working hours: 0700 - 1700
Sunshine Coast Hospital and Health Service acknowledges the Traditional Owners of the land, and pays respect to Elders past, present and emerging.