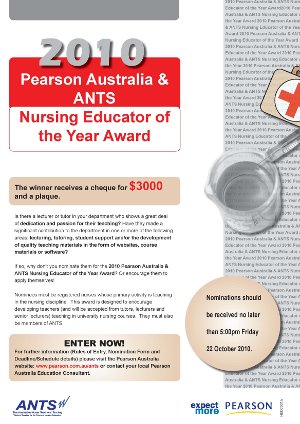 Pearson Australia in conjunction with ANTS established the Pearson/ANTS Nursing Educator of the Year Award.
Is there a lecturer or tutor in your department who shows a great deal of dedication and passion for their teaching? Have they made a significant contribution to the department in one or more of the following areas: lecturing, tutoring, student support and/or the development of quality teaching materials in the form of websites, course materials or software?
If so, why don't you nominate them for the 2010 Pearson Australia & ANTS Nursing Educator of the Year Award? Or encourage them to apply themselves!
Nominees must be registered nurses whose primary activity is teaching. Act Quick Nominations should be received no later than 5:00pm Friday 22 Oct 2010
For further information (Rules of Entry, Nomination Form and Deadline/Schedule details) please visit the Pearson Australia website:
http://www.pearson.com.au/ants
or contact your local Pearson Australia Education Consultant.