Welcome to Australian Nurse Teachers' Society
(ANTS)
---

ANTS is run by voluntary State and National Committees. NSW Committee positions have fallen vacant and it is essential for members to self-nominate or peer nominate in order to ensure the Branch is able to function. The ANTS National Office has introduced new online support mechanisms to assist Committee Members to perform duties, including online meeting/video conferencing. Members can confidently nominate regardless of home location.
Nominations for the NSW Committee can be made online by following the link below. The online form provides the means for collecting Self Nominations and Peer Nominations for the ANTS NSW Branch Committee for 2013-2014 term of office. Peer Nominations will be confirmed with the nominated member by the National Office. Branch Chair and other committee appointments will be made by ballot from elected committee members. Nominations will be accepted until 10 Jul 2013 after which nominations will be presented to members for an online election starting 15 Jul 2013 until 28 Jul 2013. Please email questions to the ANTS National Office office@ants.og.au and the Current NSW Branch Chair Vasiliki Betihavas vasilikibetihavas@gmail.com
ANTS NSW Committee Member Nomination 2013 The link will take you to a form to complete.


---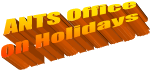 Yes the ANTS Office is on holidays 15 May - 15 Jun 2013. This will means there will be some delays in responding to queries and processing payments. We will respond to emails as soon as possible.
---
Can't access the ANTS site? Go to http://www.ants.org.au/getpassword You can retrieve your username or password by following the instructions. Any problems email office@ants.org.au It is important to log in and update your profile.

---
Skip categories
Categories