Welcome to Australian Nurse Teachers' Society
(ANTS)
---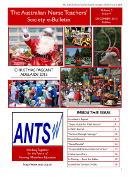 Hi everyone,    Time to catch up with the ANTS E-Bulletin December 2013 edition.
Click here to see more Editions http://www.ants.org.au/ants/mod/page/view.php?id=12
---
Can't access the ANTS site? Go to http://www.ants.org.au/getpassword You can retrieve your username or password by following the instructions. Any problems email office@ants.org.au It is important to log in and update your profile.

---
Skip categories
Categories